CELEBRATE NATIONAL DOG DAY
Happy National Dog Day to all the hounds out there (and their Pet Parents, too)!
Read on for some easy—and adorable—ways to make National Dog Day (also known as National Dog Appreciation Day) a memorable pawty-worthy day.
10 WAYS TO CELEBRATE NATIONAL DOG DAY
UNLEASH YOUR PAWTY ANIMALS
Have a National Dog Day party! What's a puppy pawty without your dog's entire gang? Invite the crew over for a day of running, snacks and, um, sniffing in celebration of our beloved canine companions.
What about the plates, napkins, cups and banners? Our friends at Coterie make choosing your pups perfect pawty decor as enjoyable as a belly rub. Choose from numerous Party Sets that come with everything you'll need for both furry and non-furry friends alike. The best part? Coterie delivers right to your door within a few days – and you know what that means…more delivery people to lick!
Read more tips on how to throw a party for your pup.
TREAT YOUR BEAST
Buy your dog a fun new toy…or two…or five.
READY, SET, FETCH!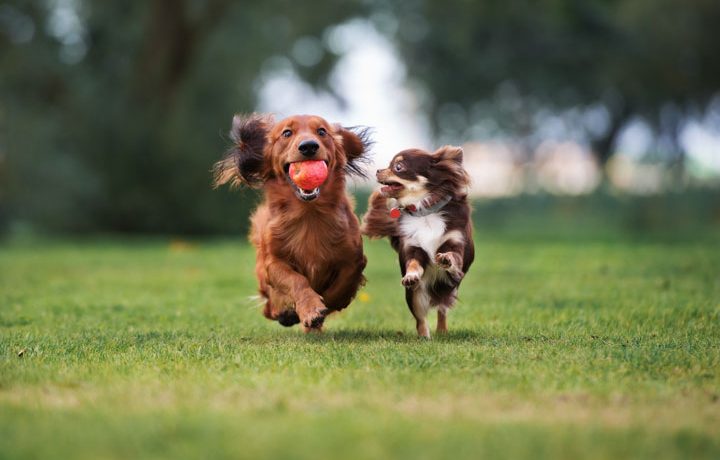 As the old saying goes, "A tired dog is a good dog." And the best way to get yourself a tuckered out pup? Take your fur friend for a day of romping at the beach or to a nearby park!
CANINE COIFFURE
Show your pooch a little extra TLC and primp their 'do. Brushing your pup on a regular basis is not only a great way to spend more QT with your four-legged friend, but it is also beneficial in keeping them in tip top shape. Brush your dog to eliminate excess fur and make them look like they just stepped out of the beauty paw-lor.
TREAT THEM TO A SPA-W-TACULARLY RELAXING TREATMENT
Give your dog a massage or treat them to a relaxing, holistic spa treatment. From facials to mud baths, to lounging by the pool, there are countless ways for a tired puppy to recharge—and look super cute doing it. Not only do they feel good (duh), they can help alleviate anxiety and pain, and improve joint flexibility. If your dog experiences any of these issues, talk to your vet about dog massage as an alternative therapy.
TEACHER'S PET
Teaching your dog a new trick is a fun way to celebrate — and it's something you can do together.
PAINT THEM LIKE ONE OF LEO'S FRENCH GIRLS
Have a portrait painted of your dog to commemorate your pup and suspend the fleeting magic of dogdom fur-ever.
STRIKE A PAWS
Spend the day taking photos of your pooch and posting your pics to Instagram – don't forget to tag @PetPlate in your pawtographs and use the hashtag #NationalDogDay
LOVE IS A FOUR-LEGGED WORD
We think the most important thing to do on National Dog Day is to treat your dog to some extra love. Give them lots of belly rubs and kisses to let them know you care. The most important way you can celebrate is simple loving your best furriend and making sure he or she is properly cared for.
BRING SOME FUN TO THE TABLE
Feed your dog a balanced, nutritious, fresh-cooked diet. Sign up for Pet Plate today!